ANZ Digital Services Status Page update
From 8 May 2023,
ANZ Digital Services Status Page
now provides provides up to date information about the operation of ANZ Institutional's systems and services for ANZ Transactive - Cash Asia. You can now track the status of Cash Asia's login page, payments, account statements and other reporting.
We recommend to bookmark ANZ Digital Services Status Page.
For more information, please refer to Status Page Overview and FAQs.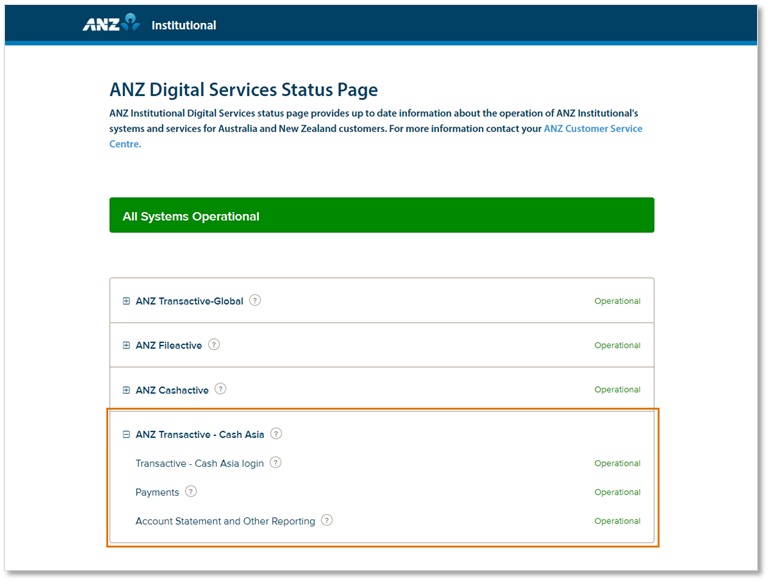 Revised Nostro Account screens coming soon
Nostro Accounts screens will be updated to provide a new, simplified look and feel. Nostro Account users can view the following updates to your Nostro Accounts and Nostro Account Details screens.
Nostro Accounts screen

Updates to the Settings menu:
Addition of the Toggle Accessible Grid. When setting is enabled, your right-click option is disabled.
Removal of 

Set Reference Currency

. You can set your reference currency from your user Settings and Preferences
Additional Account Status column added to the grid
Nostro Reports grouped into one category
New Request Daily Balance report available 
Nostro Account Details screen

Rebranded screen name to Nostro Account Details
Displays Accounts in a drop-down list
Displays Account Status against the account
Revised button layout and labels
Modernised layout to include a table format
Provides Date & Time particulars in the Info icon
Removed Voucher Image column
For more information, please refer to
Nostro Accounts
.