Create and manage your PayTo Agreements in ANZ Transactive - Global
PayTo® is a new digital payment solution in Australia offering a fast, easy and secure way to pay as an alternative method to direct debits and allows you to authorise/decline and manage your payment agreements with your merchants that offer this option.
In ANZ Transactive - Global, you can access your PayTo Agreements under the Payments menu to authorise and securely manage your payment mandates. You can view, approve, decline, pause, resume, or cancel the agreement depending on your user entitlements.
You can set up a PayTo Agreement using your BSB and account number. The merchant (the 'Biller') will set up a PayTo Agreement with you (the 'Payer') for a one-off or recurring payment for goods or services. Before the merchant can debit your account, the agreement must be authorised in line with your approval model, i.e., one or two to approve.
For more information, please refer to your ANZ representative and PayTo Agreements in ANZ Digital Services Help.

Periodic Payments (NZ)
From Monday 16 October 2023, Periodic Payments will be available to all ANZ Transactive - Global payments customers in New Zealand. Periodic Payments allow you to set up and manage a monthly recurring payment schedule. Payments are created up to seven days before the value date from a schedule and will be available to view and approve in the Current Payments screen and identified by a PPY template name prefix.

For more information refer to
Periodic Payments
.
New Service Request types available
From Monday 16 October 2023, we have added two new service request types to Accounts & Legal Entities Service Requests. Users in Australia can Stop Paper Statements and Resume Paper Statements online via the Service Requests menu in ANZ Transactive - Global using pre-populated webforms and removing the need to submit paper-based forms.
Updated Self-Service Forgot Password
From Monday 23 October 2023, you can receive your Forgot Password activation request via ANZ Digital Key (ADK) push notification or QR code. To use this self-service option, you must have an email address and mobile number registered with ANZ to access the digital channel. Follow the prompts to reset your password.
Be cautious: A phone call appearing to be from ANZ, may be a fraudulent attempt to gain access to your banking accounts.
Important reminder: ANZ will never ask for your password (temporary or existing), PIN or one-time-password (OTP). Never provide these codes to anyone, even if they claim to work for your bank.
For more information, please refer to
Forgot Password
.
New 'News & Analysis' menu - coming soon
From late October, all users can access the new News & Analysis menu from ANZ Transactive - Global. In this menu you will find the latest market-leading news, analysis and thought leadership from our experts across more than 30 global markets. Insights and Research provides market and economic commentary to give you fresh ideas and different perspectives on the industries and topics that matter to you.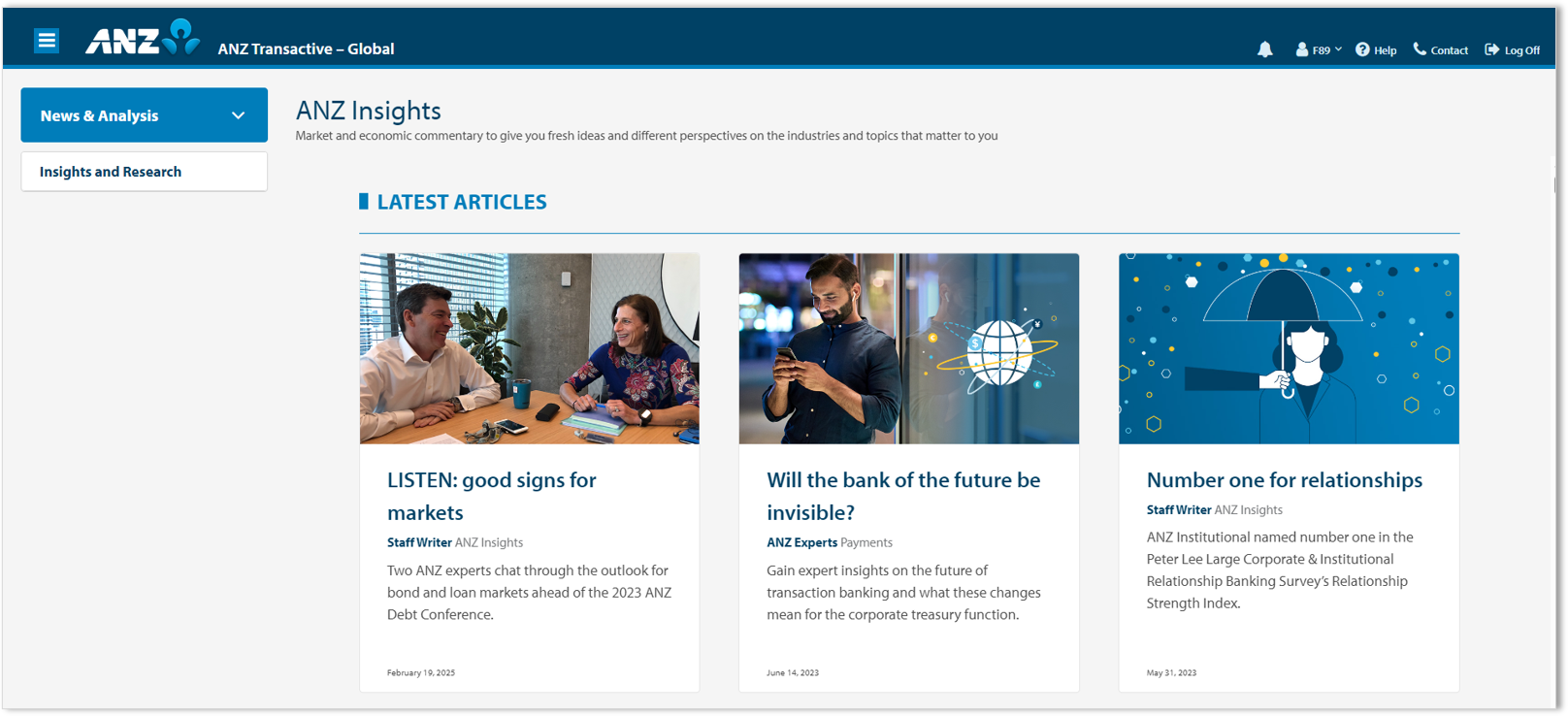 New 'Operating Accounts - Reports' menu - coming soon
From mid-November 2023, all Balance and Transaction Reports (BTR) will be available from the new Account Reports menu in ANZ Transactive - Global. Eligible users can create, schedule, email, download, edit, copy, and delete reports from this new menu. BTR reports will no longer be available from Report Centre.
For more information, please refer to Account Reports.

Removal of Net Position menu
From Monday 16 October 2023, the Net Position menu and screens will be removed. You can continue to view your Net Positions via the
workspace
widget from your dashboard, and via the Net Position View Report from the
Balance and Transaction Reports
.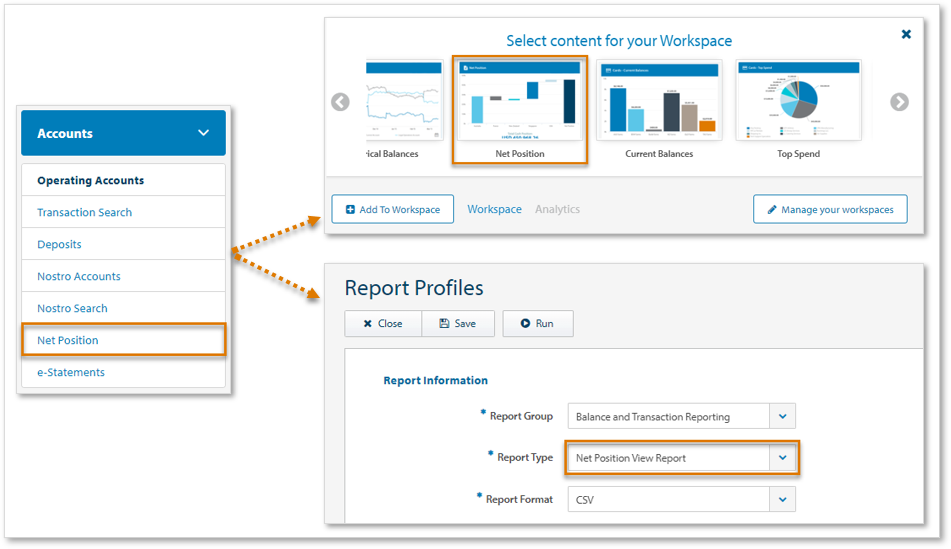 Removal of Shared Report functionality
Please note: The removal of shared reports will be delayed until further notice. You can continue to share reports and view reports shared with you.
ANZ Transactive – Global currently offers a reporting feature where you can share a report you created with other users in your organisation. Customer feedback has suggested that shared reports cannot be edited or deleted, resulting in users seeing many reports that are not required.
To alleviate these issues, we have decided to remove the shared reports in stages, commencing with the removal of this option from Commercial Cards and Accounts from early November and Payments, Receivables, and Trade Finance in the coming months.
When creating reports, you will no longer see the 'Share This Report' checkbox or any Shared Reports in your Reports menu. If you require an existing shared report with the same content, you can recreate the report profile for yourself.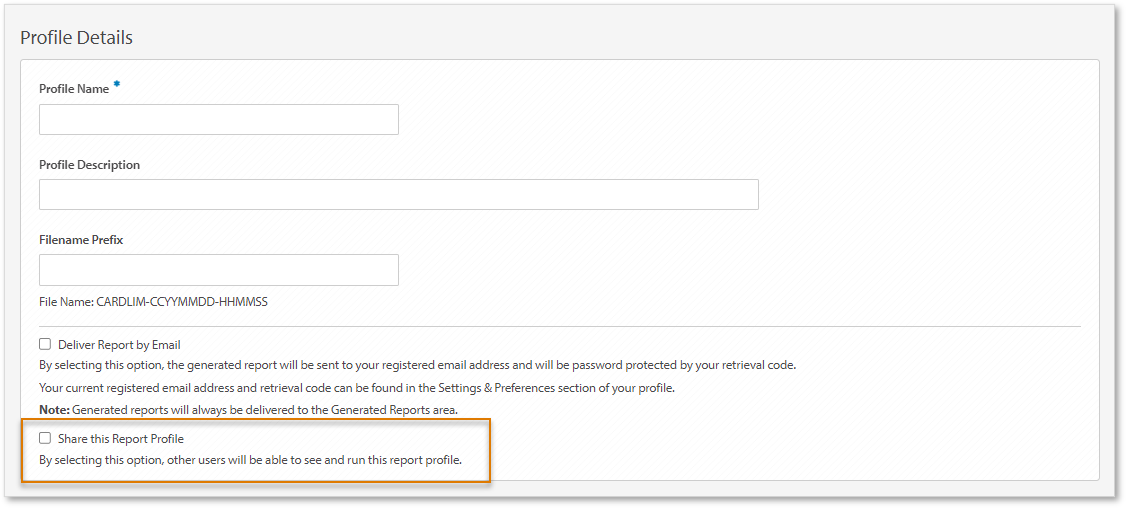 View sample ANZ Transactive - Global reports
ANZ Transactive - Global provides you with a wide range of reports for transaction banking, reconciliation, user management and audit tracking.
In ANZ Digital Services Help we have now included articles for Report Types, providing report descriptions, field names and sample images for illustration purposes only.