Pay a Bill (BPAY®*) is a national Australian billing service that enables customers to make payments from their AU domestic accounts to registered billers within Australia. Your biller provides you with a Biller Code and Customer Reference Number to use in the payment. The funding account is always an ANZ AUD account domiciled in Australia. If you import a BPAY file, each payment instruction in the file is processed as a single batch. You can create a batch of BPAY payments using one of the other methods listed below. Refer to cut-off times for processing and cut-off times.
* BPAY® is a registered trademark of BPAY Pty Ltd ABN 69 079 137 518.
Methods to create BPAY Payments:
Use the Create Payment screen:
To create a BPAY payment from the Create Payment screen, go to the Create Payment screen, click Pay a Bill and complete the sections below.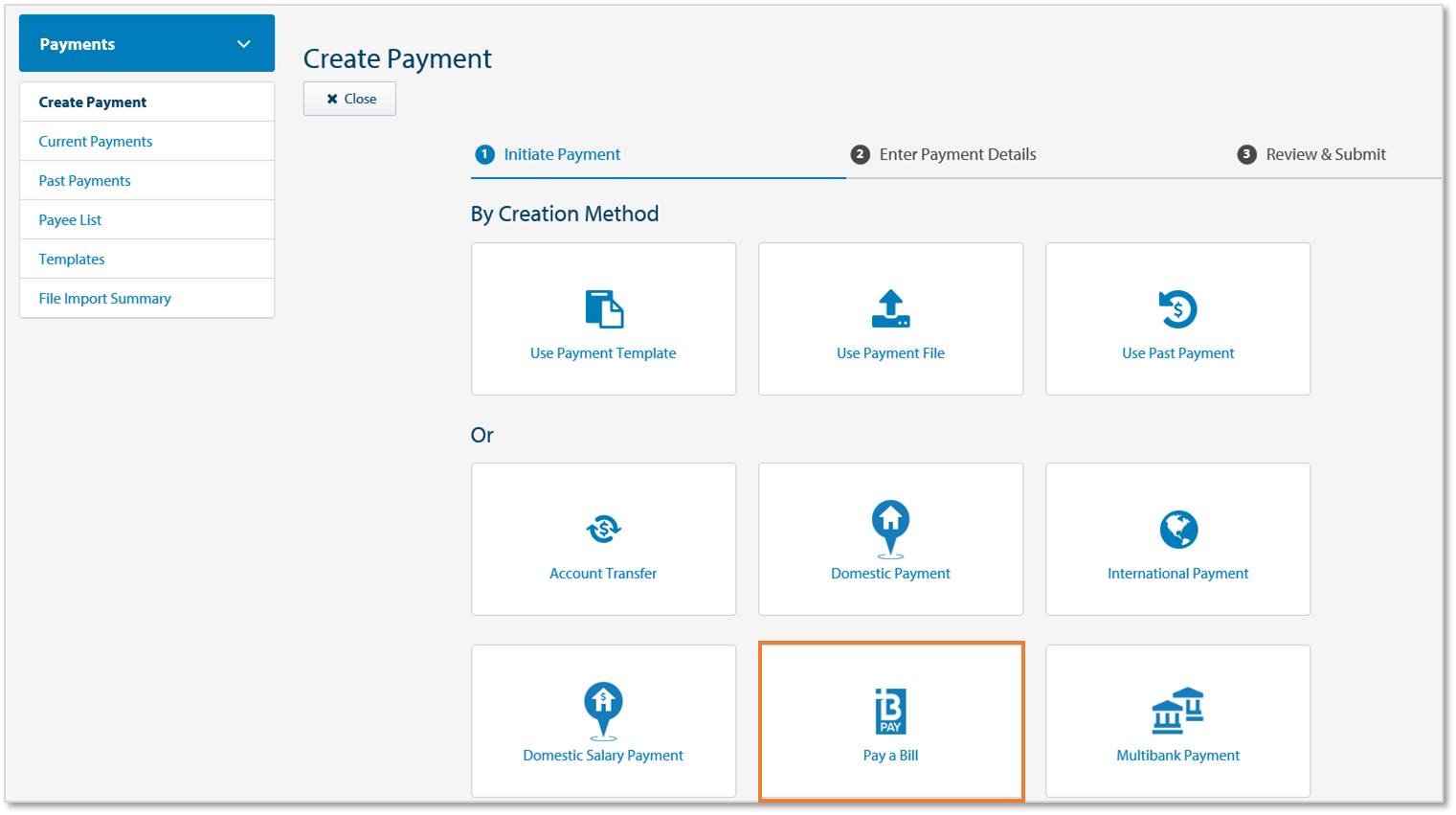 Payment Information
If you are entitled to more than one Division, select the Division under which the payment will be made

Did you know that you can setup a default Division? Click

here

to find out more.

Select the account the funds are being debited From
Payment Details
Leave the Value Date as is unless you want to choose a future date. To select a future date, click on Later and choose a future date, up to 60 calendar days, from the calendar:

Enter a Payment Name up to 16 characters that will appear on payment reports
Enter a Payment Reference up to 16 characters that will appear as part of the narrative on the debit account and on Payment Reports. This reference will not appear on your account statements. Your BPAY Customer Reference Number and Biller Name will appear on your statements.
If required, select a Confidential Data Group from the drop-down list

Only users who are entitled to the Confidential Data Group will be able to view and action the payment.
Biller Details
Click Add to add a payment instruction to the list

Add Biller

Add Biller from your Payee List

Click in the Biller Code field and select a biller from the drop-down list. You can also use the Search Biller feature to find a biller in your Payee List.

Add New Biller

Click in the Biller Code field and click Add New Biller

If Add New Biller isn't visible, you do not have entitlements to create payees.

Enter Biller Code or click on the Search icon where you can enter the Biller Name to find the biller
Enter your Customer Reference Number (CRN) in Reference
Click Add this beneficiary to Address Book if you will be paying this biller again

Click Proceed

Enter the Amount to pay the biller
Click Biller Payment Details if you need to edit the biller details
Repeat above steps to add each biller to the payment
To remove one or more payment instructions from the list, tick the checkbox next to the instruction number and click
Remove
.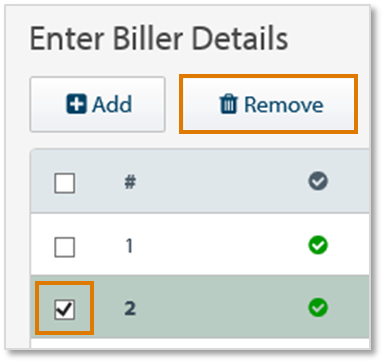 Review and Submit
After you have completed all the payment information, click Review & Submit at the bottom of the screen:

Error?

Click the drop-down in the Error pop-up to display the error:

Review the highlighted fields on screen and update as required. If a biller has an error, there will be a warning message in the payment instruction:

Click Biller Payment Details to view the error in the Biller Payment Details pop-up window:

Review the payment details and click Submit to submit the payment for approval:

If the payment details are not correct, click Previous to return to the previous screen and edit the payment as required.

In the confirmation pop-up window, choose your next course of action:

Click Request Payment Summary Report to request the report
Click Save Payment as Template to create a template from the payment
Click View this Payment to go to the Payment Details screen
Click Ok to go to the Current Payments screen