Order Cheque Book allows you to request a cheque book to be printed and delivered.
To create an Order Cheque Book service request, go to the Create Service Request screen, click Order Cheque Book and complete the relevant sections below.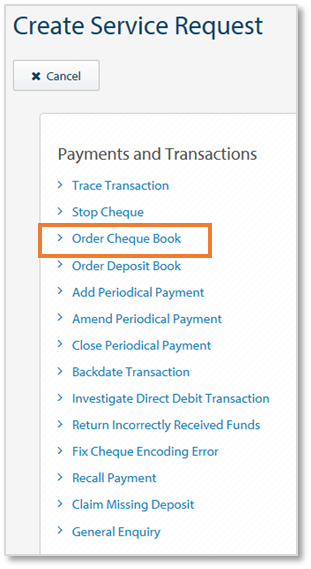 Select Account
If you are entitled to more than one Account, select the Account Number that the cheque book relates to from the drop-down list.
Cheque Book Details
Select the Number of Books required from the drop-down list
Select the Book Size from the drop-down list
Select the Cheque Type either Not Negotiable or Negotiable
Select Yes if you require a Custom Serial Number, type in the Starting Cheque Number section and select a number from the drop-down list
Enter up to 40 characters in Line 3 and Line 4 of the Personalisation section to customise the cheques, this will appear on the next available line under the company details.
Delivery Details
Complete the Attention To and enter who the delivery should be sent to up to 40 characters
If required, enter the Company Name to change the legal company name displayed
Select the Delivery Location either Business or Branch

If Business is selected, your registered address is displayed but can be changed if required by clicking on Add New Address then select the Postage Method either Standard or Express Post.
If ANZ Branch is selected, click Find a Branch Address to choose a branch to collect the cheque book from
Review and Submit
Review the order cheque book details and click Submit to submit the service request for processing

Unsuccessful?

Click View Request Details to view the request details:

Review the Errors and Alerts section for further information

For security, if a

New Address

has been added it will need to be approved before the request can be submitted.

You must have the appropriate permissions to Approve a service request
If you don't have the appropriate permissions to approve, click Cancel and the request will be placed in a Pending Approval status

In the confirmation pop-up window, choose your next course of action: