The Net Position screen shows information for aggregated balances across different ANZ accounts that you are entitled to view.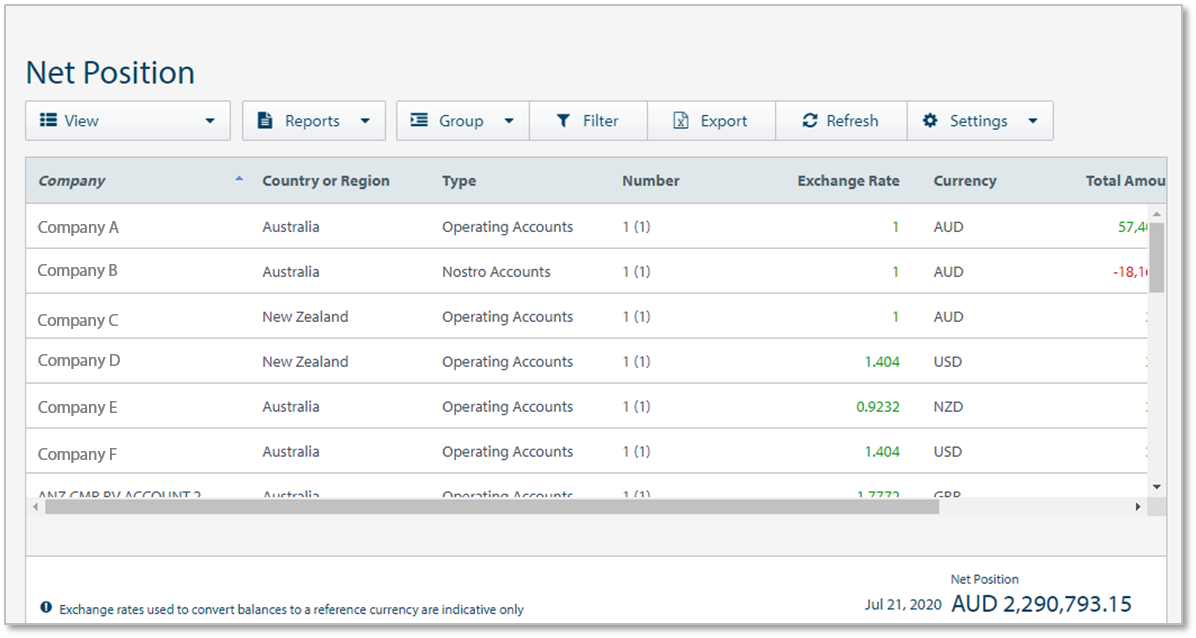 Right-click on a row (group of accounts) to

Request Net Position View Report

or View Summary Details
Click a row to view the Operating Accounts, Deposits or Nostro Accounts screens, as determined by the Account Type. By default, the View in the follow on screen will be a Net Position View and will only show the accounts under the group selected in the Net Position Screen. Use the Menu to go back to the Net Position Screen if desired.
The total Net Position for all accounts is available at the bottom right of the screen
Net Position
content is also available to add to your Workspace that provides a graphical view of your net position. Click
here
to find out more.
Control Bar
NAME
DESCRIPTION
View
Change the View to display information for a different balance date. Choose from Today, Yesterday or a Specific Date.
Reports
Click Reports to request a Net Position View Report.
Group
Group data on the screen by predefined criteria.
Filter
Filter data on the screen. Enter criteria into one or more text boxes that are under each column heading to display matching records.
Export
Export the records on screen into a CSV file.
Refresh
Refresh the records on screen.
Settings
Use Settings to:

Set Reference Currency to convert the amounts displayed in the Exchange Rate and Equivalent Balance columns, as well as the indicative Net Position total displayed at the bottom right of the screen. Note that the exchange rate used to convert balances is indicative only.
Save Settings to save the View and Group selected
Columns
For information on how to customise grids, click here.
COLUMN
DESCRIPTION
Company
The registered company name of the account.
Country
The country where the account is domiciled.
Type
Account Type; Deposits, Nostro Accounts, Operating Accounts.
Number
The number of accounts with a balance available, against the number of accounts you are entitled to access, for the relevant line item. E.g. If you can access 10 Operating Accounts but only 8 have a balance available, this would display as 8(10).
Exchange Rate
The indicative rate used to consolidate your account balances into your preferred currency.
Currency
Currency code of the account.
Total Amount
The latest available ledger balance grouped by company, country, currency and type.

If a previous date has been selected from Choose Balance Date in the View menu, the Total Amount column name will change to Closing Total Amount.

Equivalent Balance
The converted total amount based on your selected reference currency.