Past Contracts allows you to perform a search for contracts that are in an Open status with a settlement date of Today or in a Matured, Exhausted or Cancelled status.
Frequently used searches can also be saved for future reference.

Control Bar
NAME
DESCRIPTION
View

Change the

View

to display and manage saved searches.

Reports
Click Reports to request a Contract Summary Report or a Contract Advice Report for one or more selected contracts.
Search
Click Search to display or hide the Advanced Search criteria fields.
Group
Group data on the screen by predefined criteria.
Filter
Filter data on the screen. Enter criteria into one or more text boxes that are under each column heading to display matching records.
Export
Export the records on screen into a CSV file.
Refresh
Refresh the records on screen.
Settings
Use Settings to save the View and Group selected.
Past Contracts Advanced Search

Searches on fields that are left blank, will return all available data for that field. Each search field has different criteria that can be entered or selected from an existing list.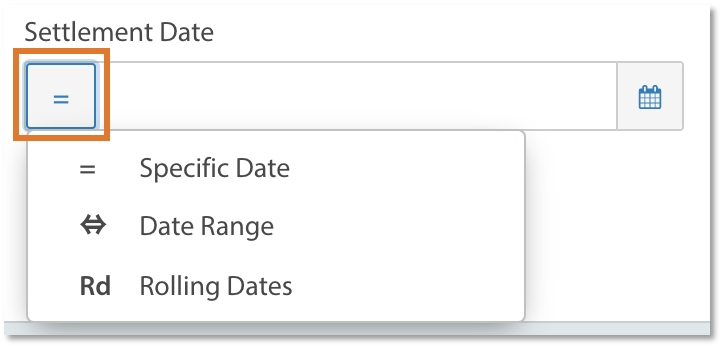 String values: Choose from Like, Equal To, Not Equal To
Amount values: Choose from Equal To, Note Equal To, Greater Than, Less Than, Between
Date values: Choose from Specific Date, Date Range, Rolling Dates
List values (such as Payment Type): Choose from Equal To, Not Equal To
Account values: Equal To, Not Equal To. To add the accounts, click Search Accounts, and select the accounts to include in the search criteria.
To complete a search, follow the steps below:
STEP
ACTION
1
Refine the search by entering values into any of the search fields:

Settlement Date
You Buy Amount
You Buy Currency
You Sell Amount
You Sell Currency
Contract Number
Contract Reference
Organisation
Status

2
Click Search

RESULT

: A list of matching FECs are displayed. Click on a row to view the

Contract Details

screen.

Click Reset to clear the search criteria and results.
Click Save to save the search criteria. After you have named your search, the search will be available from the View menu.
Columns
For information on how to customise grids, click here.
COLUMN
DESCRIPTION
Organisation
The organisation the contract belongs to.
You Buy Amount
The amount being purchased.
You Buy Currency
The currency of the amount being purchased.
You Sell Amount
The amount that is selling.
You Sell Currency
The currency of the amount selling.
Rate
The exchange rate of the contract.
Currency Pair
The two currencies the foreign exchange contract was made in.
Contract Number
The foreign exchange contract number.
Contract Reference
The foreign exchange contract reference.
Transaction Date
The date of contract was issued.
Time Option Start Date

The agreed start date that the contract is available to be utilised at the agreed exchange rate between two currencies.

Status

Open: A contract that is settling today with an outstanding balance greater than zero
Matured: A contract with a past settlement date
Exhausted: A fully extended or fully pre delivered contract with an outstanding amount equal to zero
Cancelled: A contract that has been cancelled

Settlement Date
The date the foreign exchange contract is settled/paid.
Swap Leg
For FX Swaps, indicates if the contract is the Near Leg or Far Leg.