ANZ Fileactive delivers a global, systems integration solution suite enabling automation of your organisation's business processes and workflow management.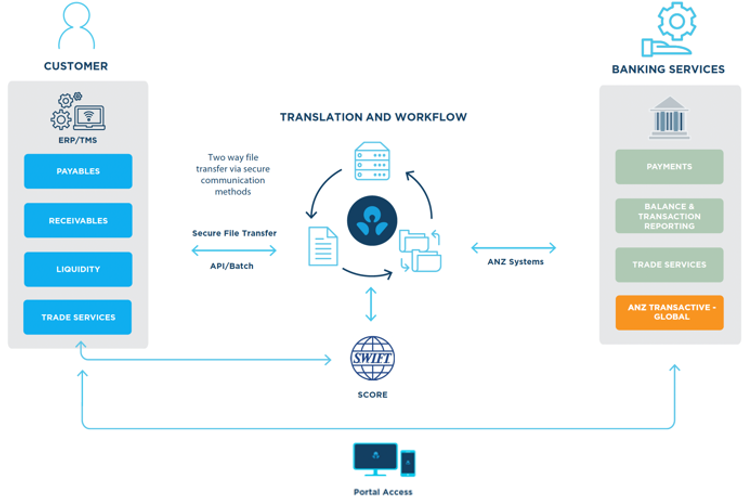 ANZ Fileactive can integrate with your Enterprise Resource Planning (ERP) System through:
ANZ Fileactive Host-to-Host
Host-to-Host integrates and communicates with your organisation's existing systems to enable bi-directional file transfer and data validation capabilities by employing state of the art file transfer technology and encryption.
Host-to-Host utilises Straight Through Processing (STP) to automate the exchange of critical banking information such as payment files or account statement data. Host-to-Host eliminates manual handling of sensitive financial details, reducing the risk of errors or fraud while also delivering operational efficiencies.
ANZ Fileactive API
Utilising ANZ's suite of Application Programming Interfaces (APIs), Fileactive API will enable your organisation to exchange small, timely and higher frequency messages with our Institutional Bank services.
API's are ideal for businesses that have a requirement to exchange data in near real-time, such as for real-time payments, time-critical status updates, event-based account statement activity requests or FX rates.
ANZ Fileactive SCORE
SWIFT for Corporates (SCORE) offers customers who have signed with SWIFT as a Corporate User and have been provided with a unique SWIFT code to interact with Financial Institutions directly. Your organisation can create payments from ANZ accounts and receive balance and transaction information via SWIFT directly to or from your ERP system.
ANZ Fileactive SCORE handles file translation and any required business logic workflow for SWIFT for Corporate customers before delivering the data to either your organisations' ERP (receivables) or into ANZ's processing systems (payables)