ANZ Transactive - Global is our digital solution allowing you to manage your business banking needs using a single-entry point for Cash Management, Loans, Commercial Cards, Trade Finance, Data Insights, and Markets services.
Within our digital channel, you can navigate to the easy-to-use menus to access payments, reporting, account information, and more. The menu options available are based on your user entitlements.
To hide or show the menu, click the Toggle Navigation icon from the top-left of screen.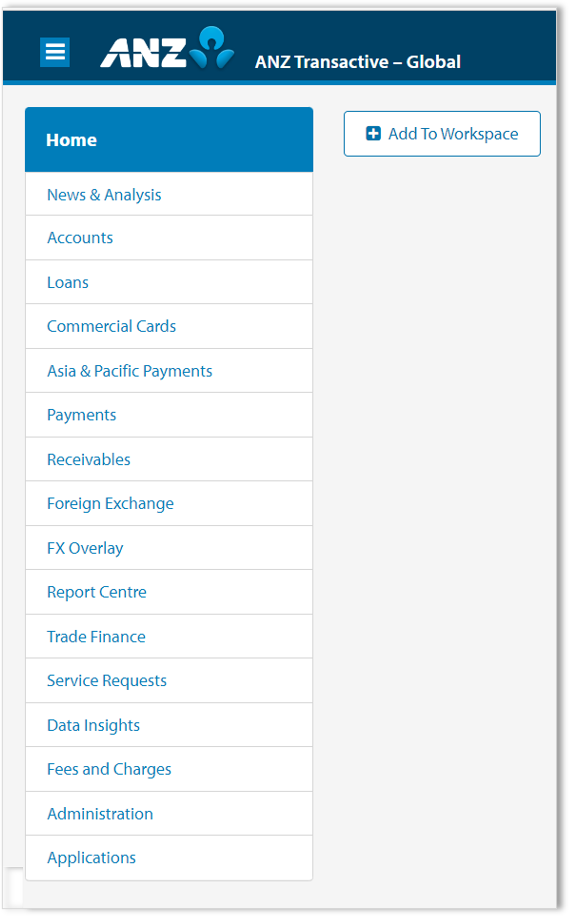 The menus available provide the following services:
MENU
DESCRIPTION
Home
Create customisable workspaces for immediate visibility of key information and tasks, including favorite accounts, reports, transactions pending approvals, current balances and net positions.
News & Insights
Coming soon.

The latest market-leading news, analysis and thought leadership from our experts across more than 30 global markets.

Accounts
View operating account balance and transaction information, deposits and Nostro accounts. Download statements for eligible accounts and Balance and Transaction Reporting (BTR).
Loans
View a range of loan facility information by drilling into the loan summary particulars. View fees, pricing options, borrower information and amortisation.
Commercial Cards
View account balance and transaction information. Create, view, and approve a range of service requests such as card limit changes, replacing or cancelling a card and cardholder requests. Create, run, download, and schedule reports.
Asia & Pacific Payments
Create view, approve, edit, delete and send for repair Asia & Pacific (ANZ Transactive APEA) payments. Upload payment files. Export Approve, Current and Past Payments to CSV. Schedule, email, share and download reports in PDF or CSV.
Payments
Create, view, and approve a range of payment activities. View payee lists and file import summaries. Create, view and utilise pre-defined templates and import files for faster transaction processing. Track international payments via SWIFT GPI. View and manage PayTo Agreements.
Receivables
Create, view and approve direct debit and periodic direct debit requests. Manage payer lists and PayIDs. Create, view and utilise pre-defined templates and view file import summaries.
Foreign Exchange
Create, manage, and view Foreign Exchange Contracts. (AU/NZ only)
FX Overlay
Set instructions and download reports for excess return swaps. (ERSs)
Report Centre
Create, schedule, email, share and download a comprehensive range of reports Payments and Receivables.

For Accounts, Administration, Asia & Pacific Payments, Commerical Cards, and Trade Finance, please refer to the respective menus.

Trade Finance
View, approve and send for repair trade instruments. Export Pending, Current and Past transactions from the grid view to CSV. Schedule and download reports in PDF or CSV.
Service Requests
Create, view, and approve requests related to maintaining your banking services, such as ordering a cheque book or investigating a direct debit transaction or adding / deleting signatories, etc.
Data Insights
Access to analysis of ANZ and industry data, delivering meaningful, actionable, data-driven insights to help support strategic and operational decision-making. (AU only)
Fees and Charges
View and analyse certain fees and charges incurred on ANZ products and services accessed via ANZ Transactive

–

Global
Administration
Create and manage your organisational users and permissions, with the ability to extract user details via CSV, XLSX and PDF. Create, run, download, and schedule reports.
Applications
Access a range of applications for initiating and managing transactions:

ANZ Transactive – Cash Asia
ANZ Transactive – Trade
ANZ Transactive – APEA
ANZ Online
ANZ Liquidity Management
ANZ Cashactive – AU
ANZ Cashactive – NZ
ANZ Cashactive Virtual – AU
ANZ Cashactive Virtual – NZ
ANZ Fileactive
ANZ FX Online
ANZ eMatching – AU
ANZ eMatching – NZ