The Nostro Accounts screen provides you with details of your Nostro accounts, including opening and current balances, indicative exchange rates and account statuses.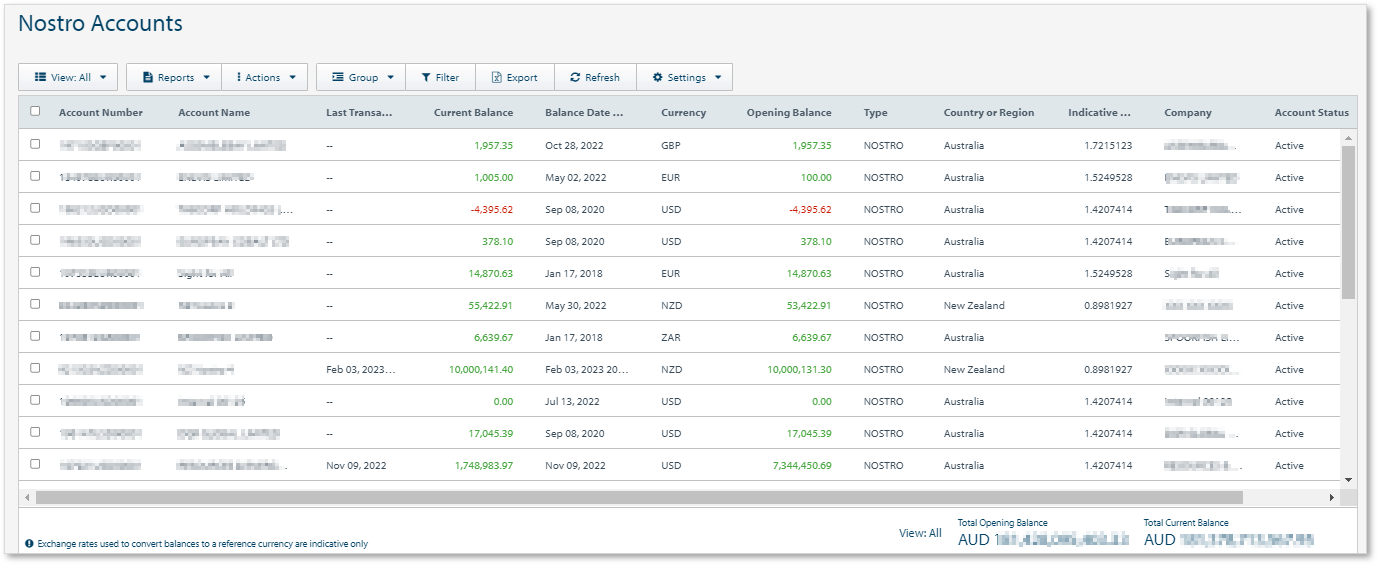 The Total Opening Balance and Total Current Balance for all accounts are available at the bottom right of the screen.
Control Bar
NAME
DESCRIPTION
View
Change the View to display by account status, accounts saved in one of your folders or to Manage Folders
Reports
Click Reports to Request Account Statement, Request Balance Summary, Request Account Summary or Request Daily Balance for one or more selected accounts.
Actions
Click Actions to View Account Activity, View Balance Summary, View Real Time Payments, View Liquidity Report or to move a selected account to a folder. See Manage Folders for more information.

You can also Choose a Balance Date to display. Choose from Today, Yesterday, Last Business Day or a Specific Date.

If you are choosing a different balance date to display, ensure no accounts are selected.

Group
Group data on the screen by predefined criteria.
Filter
Filter data on the screen. Enter criteria into one or more text boxes that are under each column heading to display matching records.
Export
Export the records on screen into a CSV file.
Refresh
Refresh the records on screen.
Settings
Use Settings to:

Save Settings to save the View and Group selected
Toggle Accessible Grid turns on or off the accessibility feature to help users with visual impairments by enabling keyboard shortcuts and helps users navigate the page more effectively
Columns
For information on how to customise grids, click here.
COLUMN
DESCRIPTION
Account Number
Registered account number.
Account Name
Registered account name.
Last Transaction Time
Date and time of last transaction for the account.
Current Balance
Current balance available for the account.

If a previous date is selected from Choose Balance Date in the Actions menu, the column name will change to Closing Balance.

Balance Date & Time
Current balance date and time.
Currency
Currency code of the account.
Opening Balance
Start of day balance of the account for the balance date.
Type
Type of Account, i.e. Nostro.
Country or Region
Name of the country in which the account is domiciled.
Indicative Exchange Rate

The indicative rate used to consolidate account balances into your preferred currency.

Company
Company name to which the account belongs.
Account Status
Status of the account, e.g., Active or Closed