This screen allows you to perform a search for account transactions that have been processed in the last 24 months.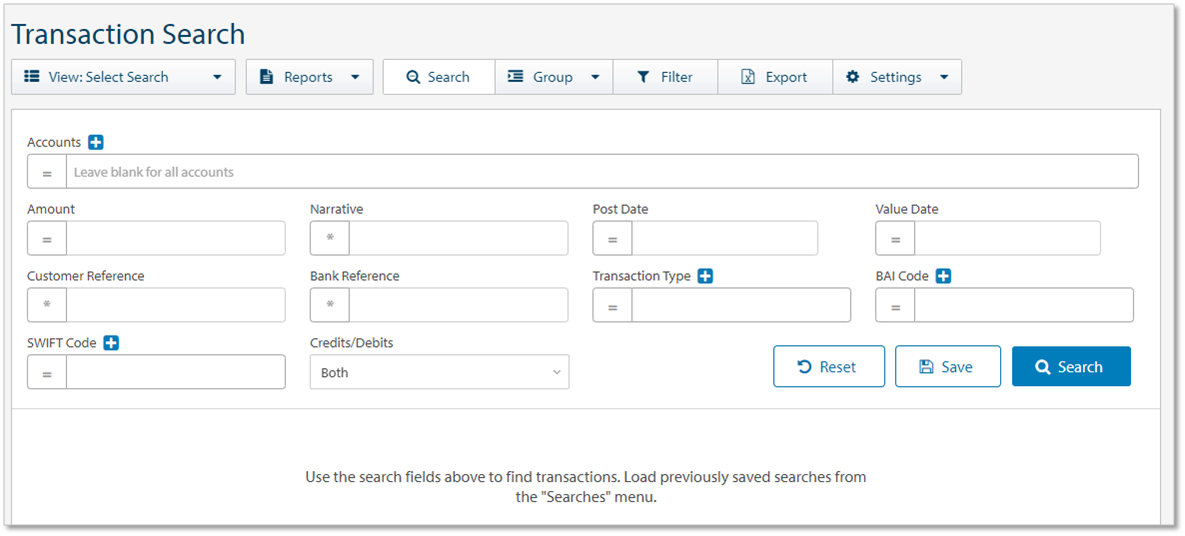 Control Bar
| NAME | DESCRIPTION |
| --- | --- |
| View | Change the View to display and manage saved searches. |
| Reports | Click Reports to request a Transaction Detail Report for one or more selected transactions. |
| Search | Click Search to display or hide the Advanced Search criteria fields. |
| Group | Group data on the screen by predefined criteria. |
| Filter | Filter data on the screen. Enter criteria into one or more text boxes that are under each column heading to display matching records. |
| Export | Export the records on screen into a CSV file. |
| Refresh | Refresh the records on screen. |
| Settings | Use Settings to save the View and Group selected. |
Transaction Search
To complete any type of search, an Account or Post Date must be entered. Searches on fields that are left blank, will return all available data for that field. Each search field has different criteria that can be entered or selected from an existing list.
String values: Choose from Like, Equal To, Not Equal To
Amount values: Choose from Equal To, Note Equal To, Greater Than, Less Than, Between
Date values: Choose from Specific Date, Date Range, Rolling Dates
List values (Credits/Debits): Choose from Both, Debits Only, Credits Only
Accounts/BAI Code/SWIFT Code values: Choose Equal To or Not Equal To. To add a value, click Add and select the values to include in the search criteria.
To complete a search, follow the steps below.
STEP
ACTION
1
Add one or more Accounts and/or select a Post Date
2
Refine the search further by including one or more of the following into the search criteria:

Amount
Narrative
Value Date
Customer Reference
Bank Reference
Transaction Type
BAI Code
SWIFT Code
Credits/Debits

3
Click Search:

RESULT: A list of matching transactions are displayed.

4
Click on a transaction to view the Transaction Details in a pop-up window:

5
Click Transaction Details Report to request a Transaction Detail Report for the transaction. Alternatively, select one or more transactions from the search results list and click Reports > Request Transaction Details:

You can also right-click on one or more transactions in the search results list and select

Request Transaction Details

from the Context Menu.

6
To perform another search or to save the search, click Search on the Control Bar.

RESULT: The search criteria fields are displayed.

To perform another search, click Reset and enter the search criteria
To save the search criteria, click Save. After you have named your search, the search will be available from the View menu:
Columns
For information on how to customise grids, click here.
| COLUMN | DESCRIPTION |
| --- | --- |
| Narrative | Transaction narrative. |
| Post Date | The date the transaction is posted to an account. |
| Value Date | The payment or collection date. When the value date is different from the Post Date, interest is calculated based on the value date. |
| Customer Reference | The transaction's customer reference. |
| Company | Legal Entity that owns the account to which the transaction belongs. |
| Account Number | The account number to which the transaction is posted. |
| Account Name | The account name to which the transaction is posted. |
| Currency | Currency code of the transaction. |
| Debit Amount | The amount debited for the transaction. |
| Credit Amount | The amount credited for the transaction. |
| BAI Code | The transaction's BAI code. |
| Tran Type | The transaction's Transaction Type, e.g. FEE, CHEQUE, OSKO, PAYMENT etc. |
| Swift Code | The transaction's Swift Code. |
| Bank Reference | The transaction's Bank Reference. |
| Traceline | The transaction's Traceline. |
| AuxDom | The transaction's AuxDom. |
| Tran Code | The transaction's Tran Code. |