Loans in ANZ Transactive – Global provides balances, available funds, fees, interest rates and repayment schedules for your loan arrangements. A Facility Summary Report is available to download.
The Facility Summary screen displays a list of active Facilities. Drill down to view more details, including loan and interest amounts, reprice and interest due dates, repayments and projected interest due.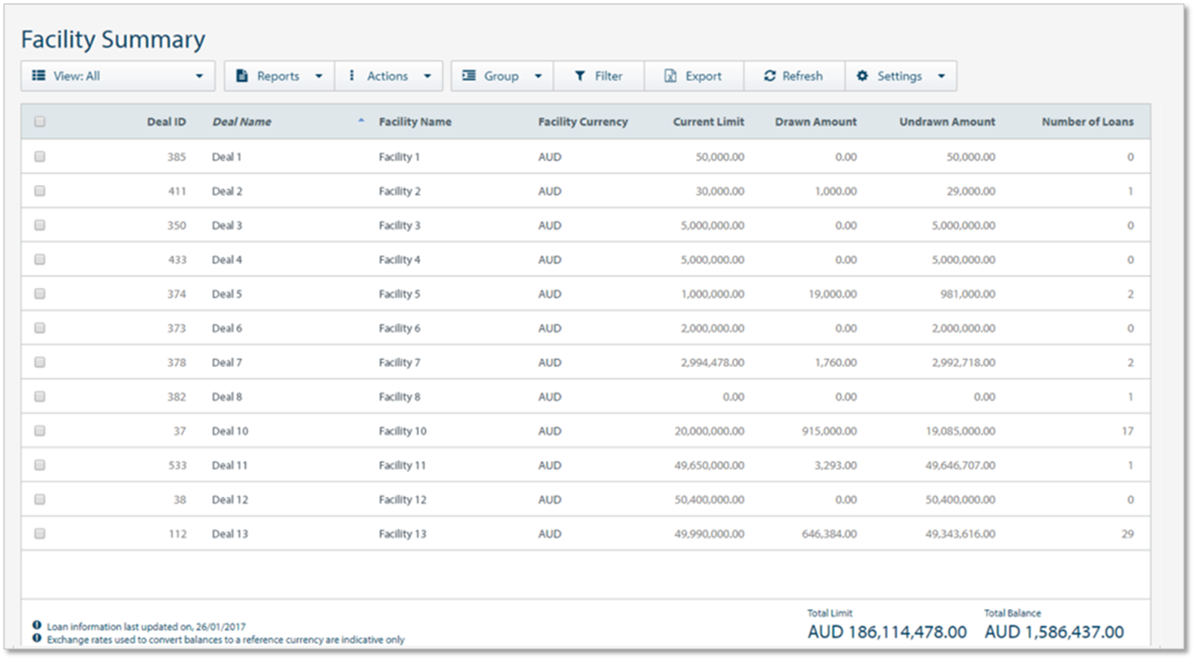 The Total Limit and Total Balance values are available at the bottom right of the screen.
Control Bar
NAME
DESCRIPTION
View
The View shows All facilities.
Reports
Click Reports to request a Facility Summary Report in a CSV or PDF format.
Actions
Click Actions to View Facility Summary, View Loan Summary, View Amortisation Summary, View Past Due Summary or View Remittance and Contact Details on a selected facility.
Group
Group data on the screen by predefined criteria.
Filter
Filter data on the screen. Enter criteria into one or more text boxes that are under each column heading to display matching records.
Export
Export the records on screen into a CSV file.
Refresh
Refresh the records on screen.
Settings
Use Settings to:

Set Reference Currency to convert the information displayed in the Total Limit and Total Balance values. Note that the exchange rate used to convert balances is indicative only.
Save Settings to save the View and Group selected
Columns
For information on how to customise grids, click here.
| COLUMN | DESCRIPTION |
| --- | --- |
| Deal ID | A unique identification given to the deal the Facility is registered under. |
| Deal Name | The name of the deal governing the arrangement. |
| Facility Name | The name of the facility documented in the letter of offer. |
| Facility Currency | The currency code applicable to the facility. |
| Current Limit | The current limit of the facility. |
| Drawn Amount | Total drawn amount of the facility. |
| Undrawn Amount | Total undrawn amount of the facility including unavailable funds. |
| Number Of Loans | Number of active loans for the facility. |