Is Economic Pulse available to all ANZ Transactive - Global users?
Economic Pulse is currently not available to Commercial Card only users. To enable access for a Commercial Card only user, please contact your Customer Administrator to create a separate user profile. All other roles can access Economic Pulse when provisioned.
What does the term 'SA3' mean in some of the chart headings?
SA3 (or Statistical Area Level 3) is an Australian Bureau of Statistics (ABS) term referring to the 358 geographical areas that cover the whole of Australia. Statistical Areas are used by the ABS to standardise statistical data. Refer to the
ABS website
for more information.
Can I export the data from Economic Pulse?
Yes, the Economic Pulse charts data can be exported to CSV by clicking the download icon from the top right of the chart.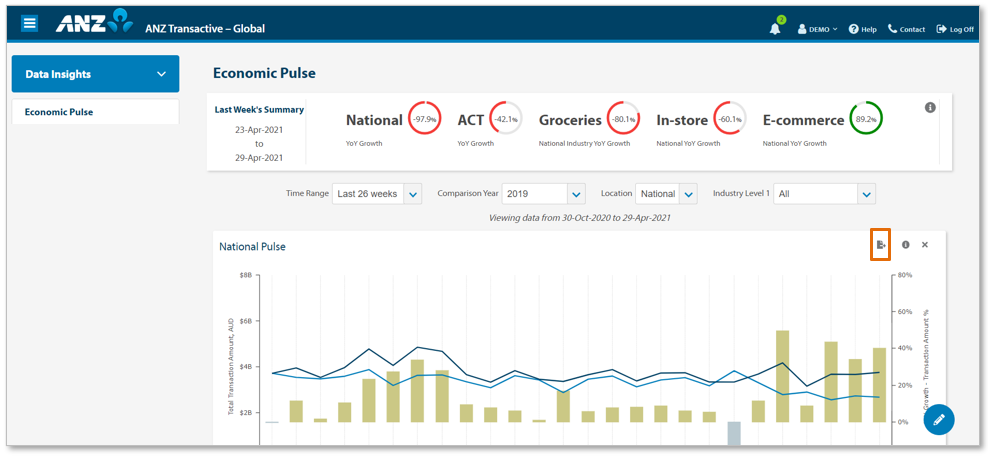 How often and when is the data in Economic Pulse refreshed?
Economic Pulse data is refreshed daily at approximately 12:00 pm AEST/1:00 pm AEDT. This refreshes the data up to the previous two days.
Is Economic Pulse available on the ANZ Transactive - Global mobile app?
No, Economic Pulse is currently only available via the web.
What browsers are supported?
Data Insights in ANZ Transactive - Global is officially supported through Google Chrome only.
Can a Customer Administrator assign or remove access to Economic Pulse?
Yes, Administrators can assign or remove the 'Strategic Insights' Role to manage their user's access to Economic Pulse.
For more information, please refer to
Create User
or
Edit User
to assign or remove Strategic Insights role under User Permissions.