The Deposits screen provides a list of registered Term Deposits that you have permission to view.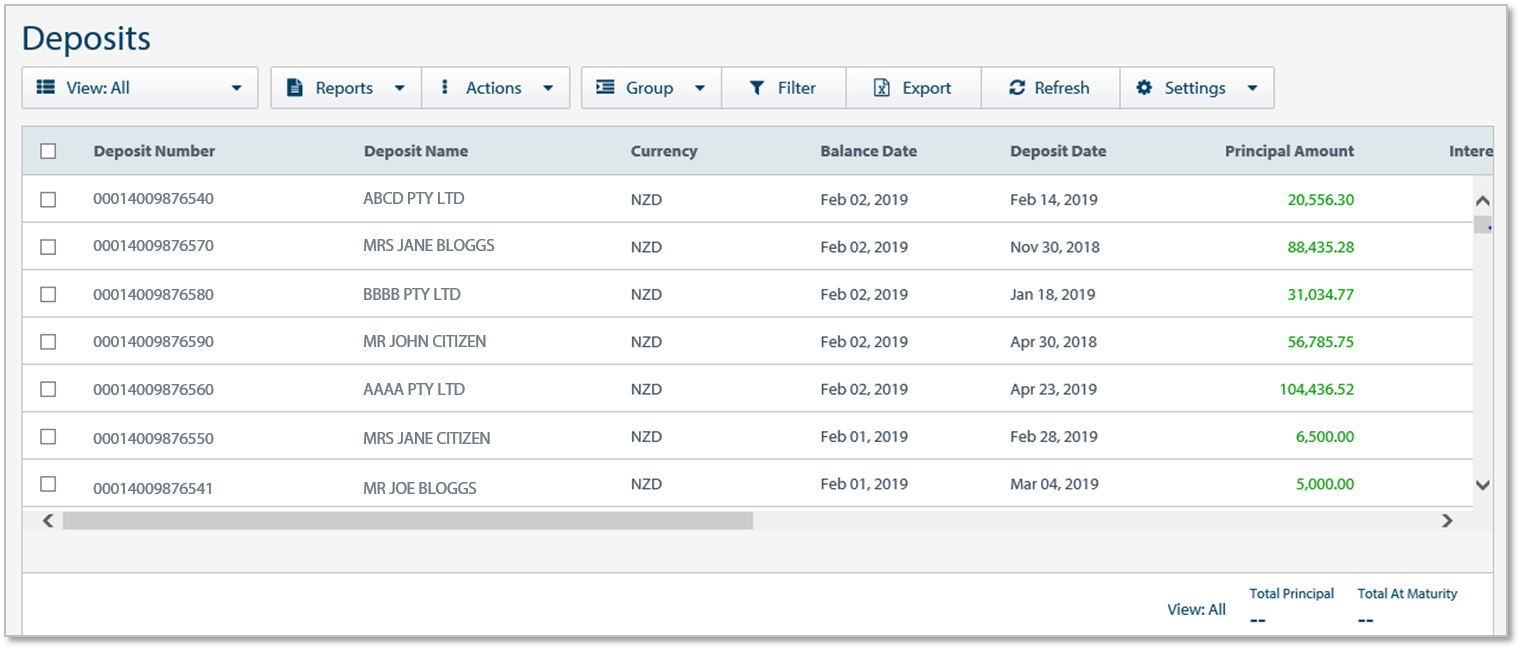 The Total Principle and Total At Maturity are applicable for outstanding deposits and are available at the bottom right of the screen.
Control Bar
NAME
DESCRIPTION
View
Change the View to display Outstanding, Rolled Over or Matured deposits or to display deposits saved in one of your folders or to Manage Folders.
Reports
Click Reports to request a Deposit Summary Report for one or more selected deposits.
Actions
Click Actions to View Deposit Details, View Deposits History or add a selected deposit to a folder. See Manage Folders for more information.
Group
Group data on the screen by predefined criteria.
Filter
Filter data on the screen. Enter criteria into one or more text boxes that are under each column heading to display matching records.
Export
Export the records on screen into a CSV file.
Refresh
Refresh the records on screen.
Settings
Use Settings to:

Set Reference Currency is displayed, based on the currency selected in your User Settings. The currency selected converts the amounts displayed in Total Principle and Total At Maturity at the bottom right of the screen. The exchange rate used is displayed in the Exchange Rate column. Note that the exchange rate used to convert balances is indicative only.
Save Settings to save the View and Group selected
Columns
For information on how to customise grids, click here.
| COLUMN | DESCRIPTION |
| --- | --- |
| Deposit Number | Deposit number. |
| Deposit Name | Registered deposit name. |
| Currency | Currency code of the term deposit. |
| Balance Date | The last updated date for the deposit. |
| Deposit Date | The date on which the deposit was made. |
| Principal Amount | The initial sum used to open the deposit. |
| Interest Rate | The interest rate at which the deposit is held. |
| Maturity Date | The date the deposit is due to mature. Note that Call Deposits do not have a Maturity Date. |
| Maturity Amount | Total amount yielded by the deposit at the end of the term. |
| Exchange Rate | The indicative conversion rate between the deposit currency and your preferred currency as set in Settings > Set Reference Currency. |
| Status | The status of the deposit; Outstanding, Rolled Over or Matured. |
| Company | The company the deposit is registered to. |
| Country or Region | The country or Region in which the deposit is domiciled. |
| Bank Name | The name of the bank holding the term deposit. |