Some users outside of Australia, New Zealand and China may see slight screen variations.
The Deposit Details screen provides a detailed summary and history of a deposit selected from the Deposits Screen.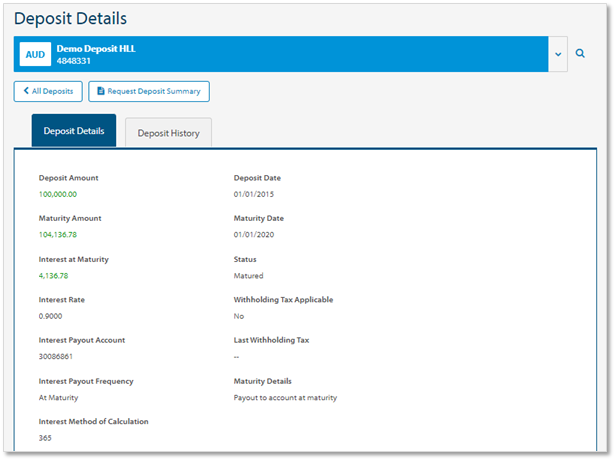 By default, the Deposit Details tab is displayed.
Control Bar
Deposit Details
Deposit Details provides detailed deposit information. Available data is based on the type of deposit being viewed.
| FIELD | DESCRIPTION |
| --- | --- |
| Interest Rate | Interest rate at which the deposit is held. |
| Interest at Maturity | Interest amount yielded at the end of the term. |
| Interest Payout Account | Account to which the interest is paid out. |
| Interest Payout Frequency | Frequency at which the interest from the deposit is paid. |
| Interest Method of Calculation | Interest calculation method, either 360 or 365 days. |
| Withholding Tax Applicable | Yes (Y) or No (N). |
| Last Withholding Tax | Latest withholding tax amount deducted. |
| Maturity Details | Instructions to bank on maturity of the deposit. |
Deposit History
Deposit History provides the history of a deposit for a selected date range.
Control Bar
| NAME | DESCRIPTION |
| --- | --- |
| View | Change the View to display information for a different date range. |
| Export | Export the records on screen into a CSV file. |
Columns
For information on how to customise grids, click here.
| COLUMN | DESCRIPTION |
| --- | --- |
| Date | Date of the deposit. |
| Balance | Principal balance of the deposit on a date. |
| Interest Paid to Date | Interest paid for the deposit. |
| Withholding Tax | Withholding Tax deducted. |