What payment file formats are available?
How can I check an ABA file is in the correct format?
An ABA file checker is available on
anz.com/onlineresources
under Technical Guides and simply involves uploading an ABA file and selecting Check. It then validates the ABA file (debits or credits) and provides on-screen information in support of correcting the file if needed.
Can a MT101 file create a batch of payments?
No, a MT101 file creates a single payment for each instruction in the file. You can however create a batch of same-currency payments. See
International Payment
for more information.
Can a BPAY file be bulk debited?
No, as a BPAY file creates a single payment for each instruction in the file, there is a single debit for each BPAY payment.
Why can't I untick "Disable Beneficiary changes" on the Upload Payment File screen?
This is because "Disable Beneficiary Bank changes for Payments created from File Imports" is enabled in Administration > Other Settings > Division Details. An Administrator can remove this setting if required, which will allow the user importing the file to choose to select this feature.
What is the maximum number of instructions that can be sent in a payment?
Domestic Payment: 100,000
RTGS/SCP: 5,000
Osko: 5,000
International Payment: 5,000
BPAY: 9,999
What is the maximum value that can be sent in a payment?
Domestic Payments: $99,999,999.99
RTGS/SCP: 1 cent less than a 100 billion i.e. $99,999,999,999.99. Note that while the system accepts this value, the downstream payment system has a $1B limit and will therefore break a payment that is greater than $1B into separate transactions for processing.
Transfers: 1 cent less than a 100 billion i.e. $99,999,999,999.99
International Payment: maximum value follows the SWIFT standards in MT101 i.e 12 digits, e.g: $9,999,999,999.99
BPAY: minimum and maximum values are dependent on the biller.
How far ahead can payments be future dated?
Country
Payment Type
Future Days (calendar)
Australia
Transfer
120
Transfer (cross border)
60
Direct Entry
120
RTGS
60
Osko
60
BPAY
60
International Payment
60
Direct Debit
120
China
Transfer
120
Transfer (cross border)
20 (business days)
Direct Entry (BEPS)
20 (business days)
RTGS (DHVPS)
20 (business days)
RTGS (CBHVPS)
20 (business days)
International Payment
20
New Zealand
Transfer
120
Transfer (cross border)
60
Direct Credit
120
SCP
60
International Payment
60
Direct Debit
120
If I nominate to import an ABA file as Payroll, will the Transaction Codes be updated to 53?
Yes, if you have nominated the file to be uploaded as a Domestic Salary Payment and the Transaction Code is not 53, the Transaction Code will be updated.
What users can access Domestic Salary Payments?
Only users with the
Payroll
entitlement will be able to view and action a Domestic Salary Payment: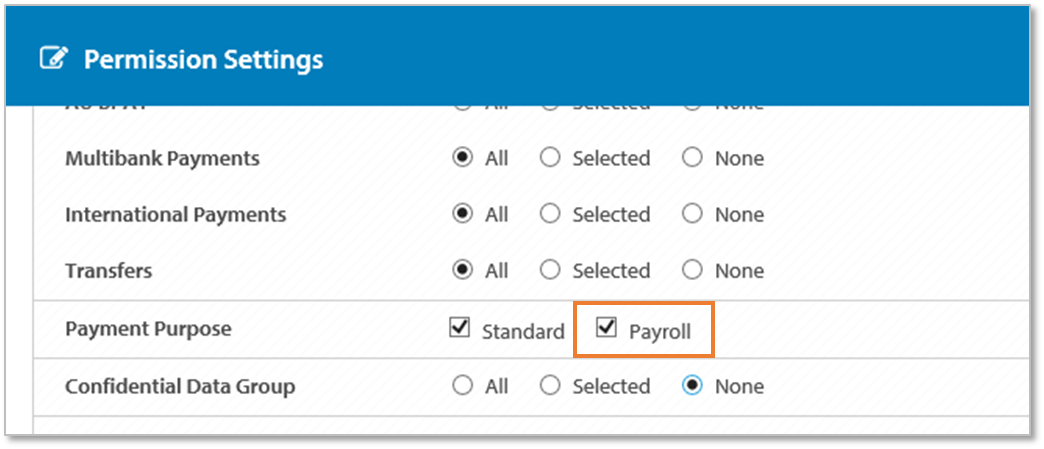 What does a Beneficiary Advice look like?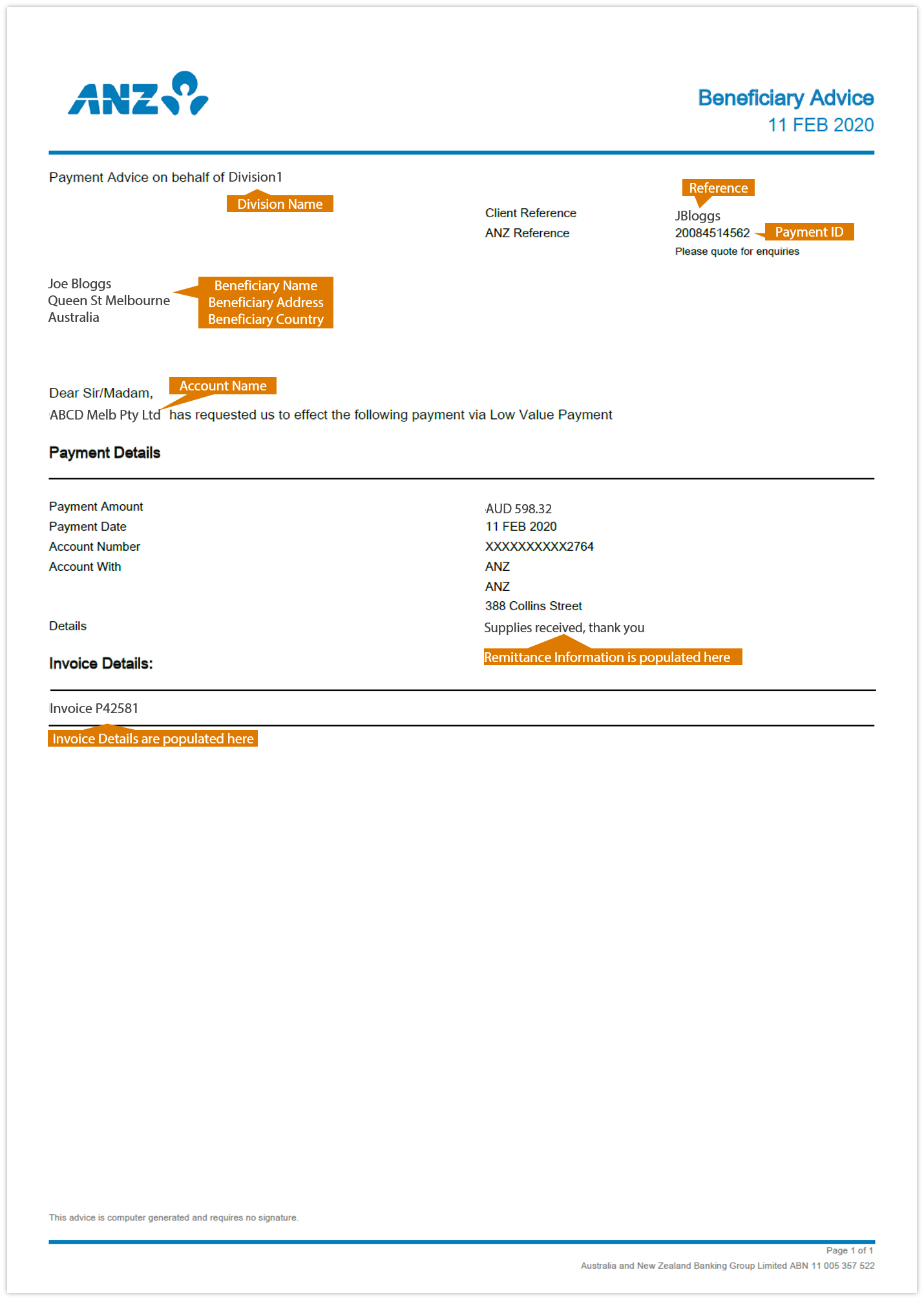 A Beneficiary Advice is received as a PDF attachment
If you have downloaded a Beneficiary Advice within ANZ Transactive - Global, the Account Number will not be masked
Email From
: "Do-not-reply@anz.com"
Email Subject Line
: "Notification: Incoming Payment to <Beneficiary Name>, Reference: <Payment ID>"
Subject
:
Dear Sir / Madam,
A fund transfer has been made to your account based on instruction from <Division Name>.
Transaction Details:
Beneficiary Name: <Beneficiary Name>
Reference: <Payment ID>
Amount: <Amount>
Please see the attached for details.
ANZ Cash Management Services
Australia and New Zealand Banking Group Limited ABN 11 005 357 522.
Can I make a payment to a credit card?
Customers in Australia can pay into a credit card via Pay A Bill using BPAY. The beneficiary will need to provide the Biller Code as detailed on their credit card statement. The Reference Number is the credit card number.
What does Needs Rate mean when making an international payment?
After a cross-currency payment has been fully approved, the system checks whether an exchange rate is required, and if so, puts the payment into a
Needs Rate
status. To get a dynamic rate for a payment, go to
Get Rate
.
Why can't I select a dynamic rate?
Some payments require a contract to be used when paying from or to a particular currency. If the currency requires a contract, the dynamic rate option will not be available to select. In these instances, please contact your local ANZ Markets dealer to book a rate.
Paying from or into one of the following currencies always requires a contract:
Australia: BHD, HRK, IDR, MYR, QAR and RON
New Zealand: CZK, HUF, IDR, KWD, MUR, MXN, OMR and PLN
How can I trade in CNH currency?
If you need to trade in CNH, select CNY from the Currency drop-down list as this denotes the value of the same currency, Renminbi (RMB).
Can I use an Intermediary Bank for International Payments?
Yes. If you cannot see an Intermediary Bank section in the Beneficiary Details pop-up window, please contact your ANZ representative.
What is ANZ's SWIFT code?
ANZ's AU SWIFT CODE is ANZBAU3MXXX
ANZ's NZ SWIFT CODE is ANZBNZ22XXX
How do I view an MT103 message?
Go to
Generate MT103 Messages
for instructions on how to view a MT103 message for International payments in a
Completed
status.
Why can't I see "Add New Beneficiary" when creating a payment?
You will only see "Add New Beneficiary" if you have permissions to create new beneficiaries.
How do we input a beneficiary name that is more than 35 characters in an International Payment?
Where a Beneficiary Name is more than 35 characters, continue to write the beneficiary's name in Address Line 1.
How can I view details of a beneficiary in a payment?
To view beneficiary details, select the payment in the Current Payments or Past Payments screen, scroll down to the Beneficiary Details section and double click on the relevant beneficiary in the list.
Does the user's daily discretion limit apply to payments approved on that day or to the Value Date of the payments?
The user's daily discretion is calculated based on the Value Date on the payment.
Does a user's Batch Limit ever supersede the Transaction Limit?
Batch and Transaction discretion's are independent. For example, if a user has a Batch limit of 3 million and a Transaction limit of 1 million, the user will not be able to approve a payment batch consisting of 1 transaction for 2 million, as the transaction level discretion has been exceeded.
What is Osko?
Osko is a payment type available in Australia and enables you to make and receive faster, smarter and simpler payments at any time, on any day of the year on eligible accounts via any participating financial institution.
How much does an Osko payment cost?
Please refer to your Cash Product Fee Schedule for further information.
How do I change our Daily Osko Limit?
Please contact your ANZ representative if you need to change your daily Osko limit.
How can I find our Daily Osko Limit?
You can find the Daily Osko Limit in Payment Details when creating an Osko payment.
From 1 November 2021, a new Osko daily limit of $50,000 will apply when an Osko payment has not been processed in the last 24 months. The new daily limit will apply in aggregate across all accounts held in a customer group and linked to the same Transactive site. It will not affect any other payment limits.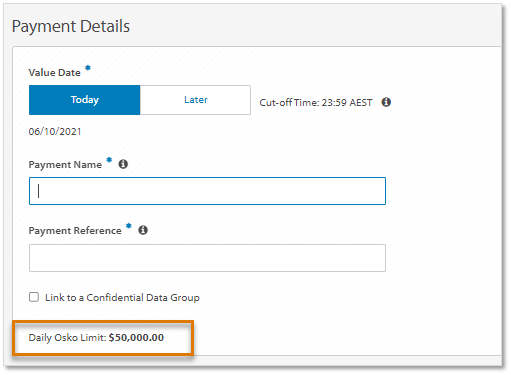 How much is a late lodgement fee (Australia customers only)?
A fee of $70.00 is charged per batch if a Domestic Payment is submitted to ANZ for processing (upon final approval) between 6pm to 7:30pm Melb/Syd time.
How long do domestic funds take to be received by the other bank?
Payment Type
Payment Purpose
When will the beneficiary receive funds?*
Domestic
Everyday regular payments.
ANZ beneficiaries will receive funds on the same day.

Beneficiaries with other major banks will receive funds on the next business day.

Beneficiaries with other financial institutions including credit unions may take up to 3 days to receive funds.
RTGS/SCP
Urgent or high value payments.
Same day, generally within 4 hours.
Osko
Urgent payments or payments addressed to a Pay ID.
Almost immediately if the beneficiary's account has Osko by BPAY®.
*Timeframes are indicative only
See Processing & cut-off times for more information.
How long does it take to process a return of funds?
Domestic return of funds: Up to 5 business days
International return of funds: Up to 10 business days
Recall of funds: Up to 30 business days
How long do payments stay in the Current Payments screen?
Payments in a Completed, Completed with Error, Bank Rejected or Deleted status are purged from Current Payments after 30 days. All other payments will remain in the system indefinitely.
What is the maximum number of records that can be displayed in the Current Payment screen?
This depends on the browser you are using:
Internet Explorer can display 1000 records per page
Chrome and other browsers, can display 10,000 records per page
Click
Previous
or
Next
to move between pages.
What time zone is the cut-off time displayed in?
The time is displayed in the Time Zone set up in User Settings >
Settings & Preferences
. The system determines the cut-off time based on the following attributes: Country payment originated, Payment Type and Payment Currency.
How long does it take to change a payment template?
Amendments to existing payment templates should take no longer than 10 minutes depending on the information to be amended. To amend a payment template, follow the steps below:
Select Payments from the Menu
Select Templates from the sub-menu
Select the required template from template list
Click Edit on the Control Bar
Amend required details
Click Review and Submit
Review changes and click Submit
When are templates purged from the Templates screen?
Templates in a Deleted status are purged from the system after 30 days. All other templates will remain in the system indefinitely.
When are payees purged from the Payee List screen?
Payees in the Payee List are not purged from the system.
How can I import beneficiaries into the Payee List?
You can import SWIFT beneficiaries using
Upload Beneficiary
. If you need to add a large numbers or AU or NZ beneficiaries to your Payee List, you can upload a domestic payment file containing the beneficiaries, then
Create Template from Payment
without approving the payment. This will add all beneficiaries into the Payee List. Please ensure to delete the unwanted template and payment.
What is considered a duplicate payment?
A batch payment is a potential duplicate if there is an existing batch payment that meets all of the following conditions at BOTH batch level and the first payment within the batch:
Batch conditions:
Has a Batch Status other than Draft, Deleted, Approver Rejected, Bank Rejected or Needs Repair
Requested Value Date is either in the past 6 business days, current date or next 6 business days
Part of the same customer Division
Has the same batch level details:
Batch Debtor Account Number
Batch Name
Number of Items
Batch Total Instructed Amount
Batch Instructed Currency
Payment level details (first item in the batch):
Creditor Account Number
Instructed Amount
Instructed Currency
Customer Reference
How can I add additional information in the MT103?
You can add
Remittance Information
in Beneficiary Details in an
RTGS (AU)
or
International Payment
. This will appear in Field 70 of the MT103 message.